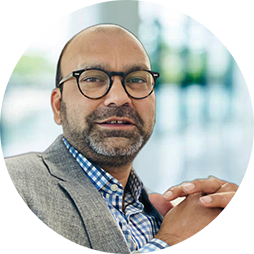 Nirdesh Gupta, PhD
Cedars-Sinai Technology Ventures Team
Nirdesh K. Gupta, PhD, is Managing Director of
Cedars-Sinai
Technology Ventures and the
Cedars-Sinai
Accelerator. Dr. Gupta also leads and provides key operations leadership to Business Units and Commercial Enterprises at
Cedars-Sinai
such as 3rd Street Technologies, The Medically Associated Science and Technology (MAST) &
Cedars-Sinai
Biomanufacturing Center (CBC). Dr. Gupta directed CSTV's Seed Fund and Equity investments and have $275M+ equity under management representing over 20 companies, with multiple significant financial exits.
Dr. Gupta works closely with, and mentors, world-class scientists and entrepreneurs to build companies to develop innovative products and platforms that address critical healthcare needs. Dr. Gupta and his team support company creation, equity and IP portfolio management, preclinical and clinical development of breakthrough technologies, business development, licensing & industry alliances including pilot programs and co-development partnerships with startups and major industry players. Dr. Gupta's leadership has led to multiple successful partnerships with industry, and he has directly played an instrumental role in company co-creation of several
Cedars-Sinai
spinoffs notably Prometheus Biosciences, Gemelli Biotech, and Gravidas Diagnostics.
Dr. Gupta was a nominated member of the Business Advisory Council of the United Nations Economic and Social Commission for Asia and the Pacific (UNESCAP) and has served as member of their Innovation and Competitiveness Task Force. He holds a bachelor's and doctorate degrees in pharmaceutical sciences.