Digital Technology for Pain in Rural America
Who are we and what is the study purpose?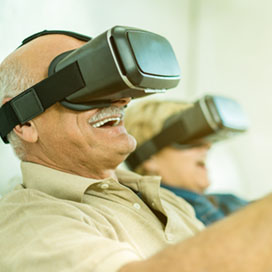 We are a research group at Cedars-Sinai studying how pain affects quality of life. The purpose of the study is to determine if digital health technologies can help improve daily function and reduce pain.
Who is eligible? You may be eligible if:
Are age 13 and over.
Have chronic pain and have experienced average pain intensity greater than 3 out of 10 in the past week.
Live in a designated rural ZIP code as defined by the Federal Office of Rural Health Policy (FORHP) data (RUCA Codes 4-10).
Have access to email and own a computer or compatible smartphone (Android or iOS).
How can I participate?
Complete the eligibility check by pressing the "Am I Eligible" button, and, if eligible, you will receive further instructions. For more information, please contact us via email at PainTech@cshs.org or call us at (310) 423-0684; a study team member will follow up with more information.
What can I expect if I participate?
You will be asked to answer survey questions about your pain weekly over two months.
The study does not require any additional medical visits.
Your participation may provide benefits such as pain relief and improved physical ability.
You will be eligible for up to $300 in Amazon gift card codes.
For more information, contact the Cedars-Sinai VR Study Team at:
Phone: (310) 423-0684 Email: PainTech@cshs.org