Virtual Reality for Chronic Lower Back Pain Reduction Study
Who are we?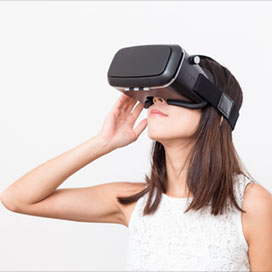 We are a research group at Cedars-Sinai interested in studying how pain affects quality of life. We are working closely with people who have chronic lower back pain to determine if digital technologies can help improve daily function and reduce pain.
What is the purpose of this research project?
Cedars-Sinai is conducting an at-home research study to test whether a virtual reality (VR) headset can help manage or reduce chronic lower back pain.
Who is eligible?
For this study, we are looking for patients who:
Are age 13+
Have at least 3 months of persistent low back pain
Have felt almost daily pain over the past 6 months
Own a computer or smartphone with access to email
How can I participate?
Complete the eligibility check by pressing the "Am I Eligible" button, and, if eligible, you will receive further instructions. For more information, please contact us via email at VRStudyMail@cshs.org or call us at (310) 423-6740; a study team member will follow up with more information.
What can I expect if I participate?
The study does not require any medical visits.
You will be asked to use the VR headset at least once daily and to wear a Fitbit activity tracker
You will answer survey questions about your pain on a weekly basis over 12 weeks
Your participation may provide benefits such as pain relief and improved physical ability
All devices will be returned to the study team at the end of the study
You will be eligible for up to $225 in Amazon gift card codes
For more information, contact the Cedars-Sinai VR Study Team at:
Phone: (310) 423-6740 Email: VRStudyMail@cshs.org