Virtual Reality for Management of Pain in Hospitalized Patients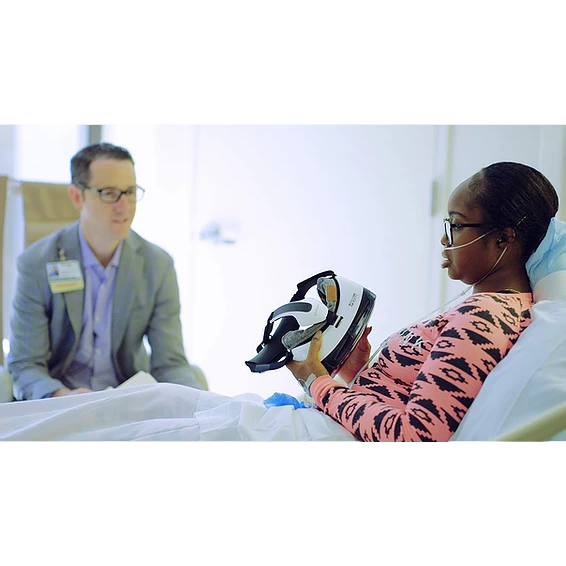 Improvements in software and design and reduction in cost have made virtual reality a practical tool for immersive, three-dimensional, multi-sensory experiences that distract patients from painful stimuli.
Our team at Cedars-Sinai Medical Center performed a study to measure the impact of a one time 3D VR intervention versus a 2D distraction video for pain in hospitalized patients.
We conducted a comparative cohort study in medical inpatients with an average pain score of ≥3/10 from any cause. Patients with nausea, vomiting, dementia, motion sickness, stroke, seizure, and epilepsy and those placed in isolation were excluded. Patients in the intervention cohort viewed a 3D VR experience designed to reduce pain using the Samsung Gear Oculus VR headset; control patients viewed a high-definition, 2D nature video on a 14-inch bedside screen. Pre- and post-intervention pain scores were recorded.
There were 50 subjects per cohort (N=100). The mean pain reduction in the VR cohort was greater than in controls (−1.3 vs −0.6 points, respectively; P=.008). A total of 35 (65%) patients in the VR cohort achieved a pain response versus 40% of controls (P=.01; number needed to treat=4). No adverse events were reported from VR.
We concluded that use of VR in hospitalized patients significantly reduces pain versus a control distraction condition. The results indicate that VR is an effective and safe adjunctive therapy for pain management in the acute inpatient setting; future randomized trials should confirm benefit with different visualizations and exposure periods. We are working on that research now and will report more results as they come in. Keep an eye on this space for more data.
March 29, 2017