Watch this video for a tour through the SynerGI (formerly IBS VR) virtual clinic. Timestamps in the progress bar denote discussions about individual SynerGI treatment rooms.
Want to join our beta waitlist? Sign up here.
Irritable bowel syndrome (IBS) affects nearly 10% of the world's population and negatively affects physical, emotional and social wellbeing. Although medical treatments can be effective, research shows that gut-directed psychotherapies (GDPs), such as meditation, cognitive behavioral therapy, and biofeedback, can also improve quality of life, reduce visceral anxiety, and promote healthy living for people suffering from IBS.1-5
Using the latest in virtual reality (VR) technology, coupled with the science of GDPs supported by the American College of Gastroenterology IBS guidelines,5 we developed SynerGI, a novel VR program that surrounds users within virtual environments designed to strengthen the brain-gut axis and improve quality of life.
Throughout its development, SynerGI was built using a human-centered design approach. We invited patients with IBS to our lab to experience the different modules as they were being built and provide feedback. We published the process and feedback in the Journal of American Gastroenterology.6
SynerGI is designed as a "virtual clinic" that patients can experience at home to learn and practice behavioral techniques for IBS. Patients may visit the "Urgent Care" area to help manage acute IBS symptoms or visit the "Skill Center" to hone cognitive behavioral techniques and develop new perspectives to help long-term management. Here's the SynerGI clinic layout: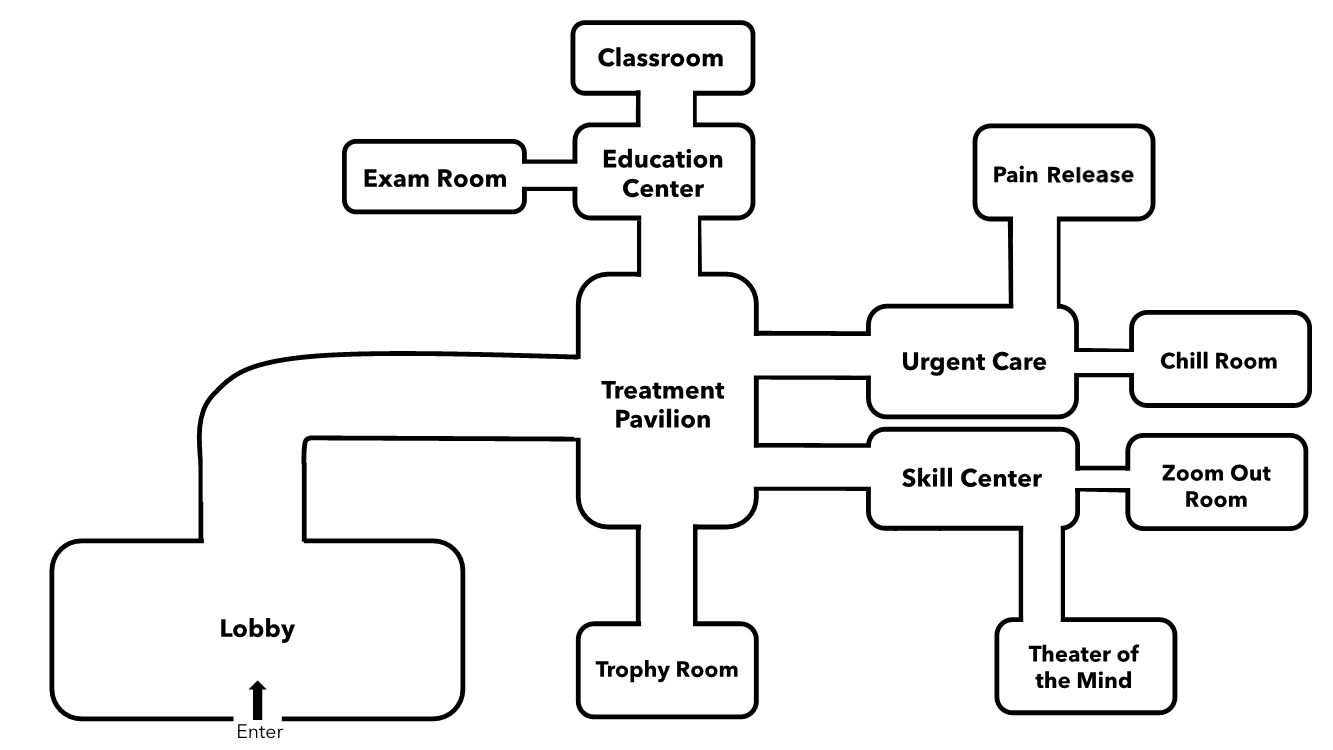 In the Exam Room, patients switch roles and become a doctor caring for an IBS patient while learning about anatomical and physiological aspects of IBS, including motility, visceral hypersensitivity, bacterial overgrowth, impact of stress, and the brain-gut axis. In the images, below, the user virtually embodies the role of a doctor and applies a stethoscope to a patient's abdomen, hearing bowel sounds (Panel A); a hologram of the digestive tract highlights the role of carbohydrates and bacterial fermentation and introduces the physiology of bacterial overgrowth (Panel B); and the brain-gut axis is presented and its role in IBS is described (Panel C).
The Chill Room offers relaxing scenes that feature gut-directed hypnotherapy, mindful meditation, and breathing techniques to help patients learn to positively influence their brain-gut axis. In the images, below, the user first sees a gaze-based selection menu that offers a range of guided experiences with male or female voice options (Panel A); as the patient inhales during a breathing exercise, an expanding mandala emits blue steam to fill and cleanse the lungs (Panel B); as the patient breathes out, metaphorical red vapors are exhaled in exchange for the cleansing air (Panel C).
In Theater of the Mind, patients enter a "movie theater" representing their mind. Scenes on the screen depict thoughts as patients learn cognitive behavioral therapy (CBT) techniques to replace unhelpful cognitions about IBS with more supportive thoughts. In the images below, a user enters a busy public restroom stall and is told people are impatiently waiting to use the facilities (Panel A); the patient selects among a list of emotions that the bathroom scene triggers (Panel B), followed by a series of CBT exercises to restructure maladaptive cognitions (not shown).
| Panel A | Panel B |
| --- | --- |
| | |
For some people, having IBS can feel like a lonely struggle. But patients with IBS are not alone. In the Zoom Out Room, patients gain perspective about the global community of people with IBS and, in the process, gain new perspectives about themselves as a person with IBS. In the images, below, the user stands atop a building where they can see others with IBS in their community (Panel A); patients next "zoom" into space, where they can view the worldwide community of IBS patients (Panel B); patients then leverage this new perspective to learn from themselves in an avatar-based "self-chat" dialogue (Panel C).
In Pain Release, patients encounter a whimsical landscape where they toss snowballs at playful penguins. This joyful escape uses the science of inattentional blindness by leveraging immersive, three-dimensional scenes to divert attention away from painful stimuli.
In the Classroom, patients learn more about the science of IBS from a library of immersive content, while in the Trophy Room users monitor their achievements as they progress through the SynerGI clinic.
SynerGI is currently undergoing intensive testing with IBS patients and is available without charge for credentialed members of the research community interested in testing the program in qualified research protocols. For more information on accessing SynerGI for research use, please contact us at ibsvr@cshs.org.
REFERENCES
1. Whitehead WE, Palsson O, Jones KR. Systematic review of the comorbidity of irritable bowel syndrome with other disorders: what are the causes and implications? Gastroenterology. 2002;122(4):1140-1156.
2. Drossman DA, Tack J, Ford AC, Szigethy E, Tornblom H, Van Oudenhove L. Neuromodulators for Functional Gastrointestinal Disorders (Disorders of Gut-Brain Interaction): A Rome Foundation Working Team Report. Gastroenterology. 2018;154(4):1140-1171 e1141.
3. Ford AC, Quigley EM, Lacy BE, et al. Effect of antidepressants and psychological therapies, including hypnotherapy, in irritable bowel syndrome: systematic review and meta-analysis. Am J Gastroenterol. 2014;109(9):1350-1365; quiz 1366.
4. Black CJ, Thakur ER, Houghton LA, Quigley EMM, Moayyedi P, Ford AC. Efficacy of psychological therapies for irritable bowel syndrome: systematic review and network meta-analysis. Gut. 2020;69(8):1441-1451.
5. Lacy BE, Pimentel M, Brenner DM, et al. ACG Clinical Guideline: Management of Irritable Bowel Syndrome. Am J Gastroenterol. 2021;116(1):17-44.
6. Spiegel BMR, Liran O, Gale R, Khalil C, Makaroff K, Chernoff R, Raber T, Chang B, Pichetshote N, Rezaie A. Qualitative Validation of a Novel VR Program for Irritable Bowel Syndrome: A VR1 Study. Am J Gastroenterol. 2022 Mar 1;117(3):495-500.